Conservation efforts at work in Tennessee's waterways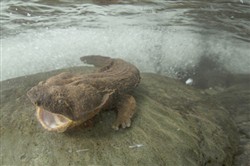 They haven't spent 73 days in an underwater habitat, but researchers and volunteers with several organizations in Tennessee have spent hundreds of hours snorkeling their way through Tennessee waterways in order to help preserve aquatic biodiversity.
Conservation Fisheries is a Knoxville-based nonprofit founded in 1986 with the specific purpose to preserve aquatic diversity in the streams and rivers of Tennessee.
Since its inception, the scope of work has grown to include conservation and recovery of rare freshwater fishes using captive propagation, habitat assessment and low impact monitoring techniques.
Over the years, staff and volunteers with Conservation Fisheries have propagated more than 65 nongame fish for recovery and release.
Many of the fish are some of the most imperiled species in the southeastern United States, which sets the organization apart from its peers, as it is the first facility in the Southeast to propagate rare, nongame fish for recovery.
Many fish populations in Tennessee are affected by pollution, habitat destruction or both. Sedimentation and chemical runoff from lawns, fields and parking lots contribute to the reduction of many fish populations in the Southeast.
Related article: Sea you in three months