Homeowners can do their part for bee health
Published in The Ledger, Nov. 27, 2015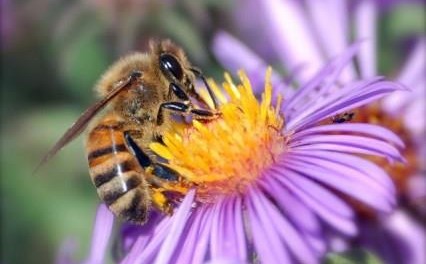 Honeybee decline is on the rise, but there's something Tennesseans can do about it, right in their own back (or front) yards.
According to the USDA, roughly 42 percent of the managed honeybee colonies in the U.S. disappeared from April 2014 to April 2015. This is up from 34 percent the year before, making it the second highest annual loss to date.
Scientists say they are not able to pinpoint the one magic bullet that causes honeybee decline, but they are able to point to a handful of factors that contribute to the shrinking pollinator population.
Loss of habitat and forage lands hurts bees and has led many people to take matters in their own hands by planting backyard bee gardens or starting small hives of their own.
Planting native trees and flowers is one of the most helpful things a backyard bee enthusiast can do for bees because they are uniquely adapted to the region.
In Tennessee, several native flowers, shrubs, vines and trees are available for planting. One particularly great family of flowers is the Aster Family, which have roughly 10 native varieties such as the blue-wood and calico aster.
Other native flowers include varieties of the sunflower, coneflower and goldenrod.
Several native tree species help provide food for honeybees and a few of these may already be in your yard including dogwood, redbud and sourwood. Persimmon trees are also great for pollinators and have the added bonus of providing a native fruit source for humans.
When selecting flowers to plant in a bee garden, choose single flower tops like daisies and marigolds instead of double flower tops like double impatiens.
Although they are showy and provide color to a garden, these double-headed flowers do not produce as much nectar as the single flower tops.
It's also important to think about when each flower blooms. Choose a variety of flowers that produce flowers throughout the growing season instead of just spring wildflowers.
In 2014, commercial beekeepers reported that pesticides adversely affected roughly 20,000 colonies of bees used for almond pollination and around 2,000 colonies of bees used for blueberry pollination.
The Environmental Protection Agency proposed a temporary ban on pesticides to try and protect bees while they were being used in the fields, but critics of the proposal say the EPA ban does not go far enough to protect pollinators or examine the root causes of honeybee decline.
It is important to choose organic seeds and plants as well as alternative methods of pest control to avoid contaminating the garden with chemicals and pesticides.
Bees need a place where they can get fresh, clean water.
Small dishes or birdbaths with stones or twigs for the bees to land on while they drink work well.
Rethinking the type of lawns we maintain can also help improve our pollinators' chance of survival.
Instead of a freshly mowed lawn of green grass, consider replacing part or all of your front lawn with flowering plants.
Not only will this provide ample food source for honeybees and other pollinators, a yard full of flowering plants also provides habitat for the bees.