A wing, a prayer and some tender, loving care
Injured raptors return to sky thanks to joint rescue venture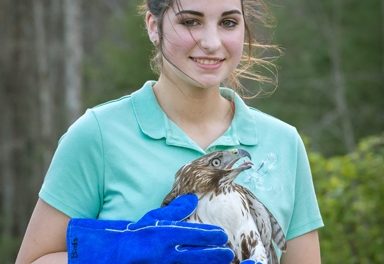 Morgan Kessler appears around the corner of the cabin with the red tail hawk in her gloved hands.
Holding it close, she walks slowly but deliberately to the spot where she will release it. About a dozen people are gathered to witness the release of this recently-rehabilitated bird of prey. Quietly, they watch, with cameras poised and ready, as Kessler removes the cloth covering the bird.
She holds the hawk by its legs so it cannot move its talons and pulls it back against her body, holding it securely as she prepares for the release. In the quiet of the moment before the release, the only sounds were the songs of other birds and the soft clicking of a camera.
In the blink of an eye, she releases her grip on the hawk's talons and pushed it up and away. It doesn't need much encouragement as it takes flight and soars above the pond before settling on a limb in a pine tree on the other side of the pond.
The hawk, named Juliette by her rescuers, is a juvenile red tail who crashed into a church window in downtown Chattanooga in February and sustained impact trauma to both feet. She was picked up by a vet technician from the Chattanooga Holistic Animal Institute.
After spending a few days at the Happinest Wildlife Rehabilitation and Rescue on Signal Mountain, handlers brought Juliette to the the University of Tennessee Veterinary Hospital in Knoxville for amputation of two phalanges on her right foot.
After the surgery, Juliette returned to Happinest in Chattanooga for her initial rehabilitation before being sent to Natalie Mong at Upstate Birds of Prey in early March.
A few weeks before her release, Juliette returned to Happinest for her pre-release fight conditioning. She returned to Mong in early April and was finally released Monday, April 4.
Some people may wonder why it is important to rehabilitate wild animals or even meddle with the natural order. Mong understands the concern and says she believes in the circle of life that exists in nature, even when it pains her to see things take their natural course.
"But, when our world crosses with theirs, and it does most of the time when these birds get hit by cars or they fly into windows of buildings, I believe we have a moral obligation to them,'' Mong says.
"This is the first joint rehabilitation project we've had with the Happinest folks," says Mong, director of Upstate Birds of Prey, a nonprofit organization in the Top of the World community in Blount County.
Chance meeting
The release was also a first for Kessler, a freshman at Clayton Bradley Academy in Blount County, who met Mong over the winter while she was on a walk in the woods with her parents. Kessler began volunteering with Upstate Birds of Prey shortly after that meeting.
"I've always been an animal lover and actually wanted to be a rehabber for a while now," explains Kessler. "I didn't know exactly what kind of animal, and I never would have guessed it would have been birds of prey."
The serendipitous meeting between Mong and Kessler is just one example of how people end up volunteering with Upstate Birds of Prey. According to Mong, many folks who volunteer have zero biology background.
"Most of our volunteers are just appreciative of nature," adds Mong, who over the years has worked with several volunteers to rehabilitate and release more than 100 different birds of prey species.
Kessler now also works with the educational birds at Upstate Birds of Prey. These birds are ones that are unable to be rehabilitated and returned to the wild.
"I'm AJ's handler," explains Kessler. "He's the little American kestrel. He's a little bit of a brat, but I have to say he's one of my favorites."
Kessler works with Zena, another red tail hawk, but one that is unable to be released because of a lens implant she had as a young bird that impacts her ability to fully see and therefore survive on her own.
"Zena is just so big and beautiful," Kessler says. "I'm excited to get to release another red tail hawk. I think they're just awesome."
Scary, yet fragile
For Mong, the release of Juliette reminds her of her own first bird of prey rehabilitation and release, which was also a red tail hawk. She got her start with wildlife rehabilitation when she was still living in South Carolina.
"I started working with squirrels and joined a local rehab group," she recalls. "The leaders asked me to pick up an injured red tail hawk, but I couldn't do it by myself because I wasn't permitted, so she worked alongside me. After that, I was hooked on raptors."
[A raptor is a bird of prey such as a red tail hawk or owl].
Mong admires the strength of birds of prey. Although they can be scary at times, they are also very fragile.
"They have an incredible ability to heal themselves, if just given time, which is something they don't have in nature. I just wanted to help them as much as I could," adds Mong, who started Upstate Birds of Prey to assist in the capture, rehabilitation and release back into nature of injured and orphaned birds of prey.
Animals with a job
Red tail hawks and other birds of prey are a federally-protected species and vital to the environment. Not only do they keep the rodent and squirrel populations under control, some birds of prey fill a specific niche within the natural world.
For example, the great horned owl is the only natural predator of skunks, so they are important to keeping the skunk populations under control. However, owls are also one species of birds of prey Mong sees needing rehabilitation more than others because of being hit by cars at night.
Another example of how important birds of prey are to the human population is found in India where, traditionally, cows are seen as sacred creatures and cannot be consumed by humans.
Once a cow dies, it is fed on by vultures, which acted as the natural animal disposal system in India until the 1990s when scientists began to notice a sharp decline in the number of vultures.
The culprit turned out to be dicloflenac, a common anti-inflammatory drug administered to livestock and used to treat inflammation, fever or pain associated with disease or injury.
The drug is fatal to a vulture, which is exposed to a mortal dose if it eats the carcass of an animal recently treated with dicloflenac.
Because of this drug's presence in their main food source, the vulture population in India has seen one of the fastest population collapses of any bird species recorded in history, including the Dodo, according to Save Our Species, a global coalition of partners working to protect threatened species from extinction and managed by the International Union for Conservation of Nature (IUCN).
As a result of the significant vulture decline, India has seen an explosion of rats and wild dogs that spread disease in the human population, resulting in billions spent on health and sanitation.
"The situation in India is a perfect illustration of the importance of raptors," according to Mong.
Education birds
Mong and her team of volunteers engage in a number of outreach and education programs using some of the other birds living on site.
"We have six education birds that are unable to be released," adds Mong, who relies on the vets at UT to make that call.
Aside from Zena, the red tail hawk who received a lens implant, the other educational birds living at Upstate Birds include:
— Roscoe – a great horned owl with a degenerative bone disease and an indolent eye ulcer that will not heal.
— Nick – a broad wing hawk that somebody stole from his nest illegally when he was a baby. Now, Nick is imprinted on humans and, as a result, has not learned how to communicate with his own species for survival instincts.
— AJ – an American kestrel who experienced something similar to Nick as a young bird. Someone thought he was a pretty songbird and wanted to raise it so they took him from his nest.
— Shadow – a barn owl who was rejected by his parents and simply won't hunt for himself. Mong is not sure why the parents rejected him, but explained that sometimes, there can be a genetic imperfection humans do not see, but one detrimental enough to the parents that they do not see the value in raising the off-spring.
— Wilson – a screech owl who was pulled from his nest as a hatchling by a cat. He landed on his tail and sustained significant nerve damage that inhibits his ability to grow tail feathers.
"Our goal is to have everybody that wants access to learn about these birds to be able to have that access," explains Mong. "People can reduce the number of injuries to birds of prey by reducing litter and using an alternative fencing other than barbed wire, which tears apart the wings of owls at night."
She and her team have three main outreach programs: All About Owls, Masters of the Skies and East Coast Raptors. Each presentation focuses on a different species and features the education birds mentioned above.
Father and son
It was at one of these outreach programs during a festival at Walland Elementary School in Blount County last spring that Terry Gardner and his son, Will, met Mong. They also were part of the crowed who attended Juliette's release.
"My son was really interested in the raptors and has been for quite some time," says Terry Gardner, who works at Denso in Maryville. "Will wants to become a falconer where he can train red tail hawks and train them to hunt."
Because Will is only 12, and not quite old enough yet to be a falconer apprentice, Mong took him under her wing. She taught him the basics of how to care for raptors, their anatomy and how to feed them.
"She taught him pretty much everything he needs to know as a falconer, so he's getting a great head start," says his father. "Someday when he works with a master falconer, he'll have a lot of the training under his belt."
When students volunteer with Upstate Birds, they are required to have a parent with them if they are younget than 16. That's how Gardner also got involved with the organization.
"I love it," he says. "It's really neat. I never considered myself a bird watcher or a bird lover other than just a nature lover in general, but I've grown a new appreciation for raptors, the life they lead and what it takes to care for and rehabilitate them. It's really fascinating."
One of Gardner's favorite birds to work with is Roscoe, the great horned owl. He finds the hunter instincts in these birds of prey fascinating.
"I love working with Roscoe and have learned some neat characteristics about owls," he says. "Experiencing it and being able to share it with people grows that passion for birds of prey more than just reading about it."
'Birds of East Tennessee'
Kessler shares Gardner's excitement for these birds and looks forward to having a few more years to intern with Upstate Birds of Prey before deciding on college and a career.
"It's crazy holding a giant hawk or a giant owl in your hands and giving them medication or feeding them," she adds. "I never would have expected to be doing this work."
She is definitely planning on a career with animals; she's just not sure which species she wants to focus on.
"I like working with birds of prey a lot, so I might go down this path, but who knows. I might find something else I like to do," explains Kessler, who has her eyes on the UT vet program.
In the meantime, she will continue working with Mong to rehab a variety of species of birds and help educate the public on the importance of birds of prey.
"A lot of people don't really think a bird is that significant, but these are the birds of East Tennessee," explains Kessler. "I want to take care of what's naturally here and help what's in this area. Birds are actually really smart and really cool creatures."
As for Juliette, after her release, she remained on the pine tree limb across the pond, scouting out her new home.
Because of her age, she is not yet in danger of being run out by any adult red tail hawk that may have already taken up residence around the pond, so hopefully, she'll be able to settle in, claim her territory and live out the rest of her natural life hunting in the hills of East Tennessee.
Click here to read the original article published online at The Ledger, May 13, 2016.