Cassius Cash's unlikely path from Memphis to Great Smoky Mountains superintendent
Published in The Ledger, July 31, 2015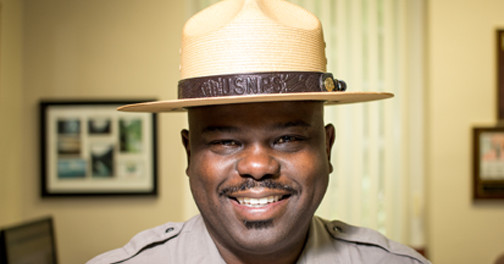 It all started on whim. Cassius Cash was on his way to band practice at the University of Arkansas when he decided to practice his interview skills instead.
"Someone informed me the (U.S.) Forest Service was doing recruitment, but I had no intention of going in there and landing the internship," says Cash of that interview for a wildlife biologist internship. "I thought the interview was about as far as I was going to go to chase my dreams."
That decision changed his life.
More than two decades later, Cash is well into his career with the National Park Service and settling into his first year as superintendent of the Great Smoky Mountains National Park – the most visited national park in country.
As a city kid growing up in Memphis, Cash had two distinct concepts of what lived in the woods: animals and monsters.
"My first imprint of the woods was through television," says Cash, who remembers coming home from church on Sunday evenings and tuning into "Mutual of Omaha's Wild Kingdom" to learn about various animals and the habitat they needed in order to live.
"That show was the beginning of tapping into my imagination of wanting to be outdoors or even liking to be outdoors."
However, Cash didn't see how a kid from Memphis – he's a graduate of Whitehaven High School – could end up being that person out in the woods. He had no role model for that scenario. It wasn't until he landed his internship with the U.S. Forest Service that he actually saw himself in woods.
"It was a huge decision for me," Cash recalls. "I thought I was born to be a doctor because that's the urban-type jobs you get career counseling about from your parents and the ones you see around you growing up."
Of course, television also has a dark side and can portray the woods as a very scary, very dangerous place for children and even adults.
"I think about every scary movie I've ever watched," he says. "I'm sitting there on the couch, watching this person walk through the woods at night and I'm talking to the TV – 'Dude, you're about to get killed!' The last thing I wanted was to be that guy in the woods."
Cash took a leap of faith when he accepted the Forest Service internship, which involved surveying the northern spotted owl in Washington State.
"I decided I was going to allow the curiosity of success overwhelm my fear of failure, so I took that leap and went out there," adds Cash, who was excited to be in the Pacific Northwest doing a job he'd seen on TV back at home.
The one thing the U.S. Forest Service recruiter failed to mention to Cash was his job of surveying owls required him to be in the woods at night.
"So here I was, that guy in the woods at night I used to watch on TV," Cash says. "I was very uncomfortable, but I had to overcome my fear. I had to face my demons."
Cash uses this example now when he interacts with youngsters and encourages them to chase their dreams.
"You've never grown when you're comfortable," he explains. "Whatever it is – whether it's a job with the Park Service or not – you will have that moment when you're going to have to face your fears."
Another building block that helped Cash get to where he is today is the Boy Scouts.
"During my interview in college, the whole conversation turned around the moment I mentioned I was a Boy Scout. I am forever in debt to the Boy Scouts for giving me the experience of being outdoors and working in a team environment."
Cash went to visit his mother a couple of months after moving to Gatlinburg and, to his surprise, she had unearthed his Boy Scout belt with all the merit badges he had earned.
"It was amazing," Cash recalls. "I had a badge for hiking, one for camping, one for community projects and realized what I was doing in my youth provided the building blocks for what I'm doing today."
When he can, Cash takes his Boy Scout belt with him to talk to kids and encourage them to not waste the opportunities they have to be outdoors; that each experience contributes to the foundation of where they will be and what they will accomplish in the future.
Reaching out to younger generations is one of Cash's primary goals as the new superintendent of the park.
"Kids are messengers to the future," he says. "I personally want to engage youth and have meaningful conversations about the park, especially with the millennials who will inherit the future management of the Smokies."
One of the ways kids can get connected with the outdoors is through Tremont, a nonprofit residential environmental education center that has helped connect people with nature since 1969.
Tremont provides "in-depth experiences through education programs that celebrate ecological and cultural diversity, foster stewardship and nurture appreciation of the Great Smoky Mountains National Park," its website states.
"Tremont is what I call our secret weapon," Cash says. "They've had an impact on kids across the country. The earlier you connect them to the outdoors, the better off they and we will be."
Another way Cash hopes to engage youth is with more inclusive stories and telling them in a way that that enables kids to see themselves in the stories.
In his former position as superintendent for Boston National Historical Park and Boston African American National Historic Site, Cash focused on how to tell stories with a different starting point than the one learned through social studies and history classes in school. He also focused on different ways to engage visitors to the park.
He opened a new visitors' center during his tenure in Boston.
At first, Cash and his team planned to go the traditional route of putting up large panels to tell the story of the park and identify the various sites to visit.
Thinking about the age range of visitors to the park – from boomers to millennials – they modified their vision of the new center and included iPads throughout for guests who prefer to read the information on an iPad instead of walls. They also developed a national award-winning app for the park.
"When you walk into the visitors' center, you can see clear as the day is long the generational gap and how people engage with the information," notes Cash. "Young folks were 'putting a ranger in their pocket' by downloading the app and embracing the park service experience in their own way. Other folks were reading the panels and waiting for the ranger tours."
As the National Park Service approaches its centennial in 2016, Cash has challenge park rangers to think about the public in a different way than they have in the past. He wants them to be inclusive and engage the next generation.
"It's one thing to have a tour that talks about history and the real estate of the park – 'On your right is this and on your left you have that.'
"I think there are some posing questions we can engage our visitors on in a conversational way instead of just spitting out all the facts that most folks only remember 5 to 10 percent of when they get back to their car."
When the National Park Service was created in 1916, 50 percent of this country was urban and today, 80 percent is urbanized, Cash says.
With the centennial approaching, Cash and his wife are getting creative about how they can personally inspire youth to get outside and find a park. Next year, they have committed to hiking 100 miles in the Great Smoky Mountains National Park – in Tennessee and North Carolina combined – in commemoration of the centennial.
"We want to do a strong push and outreach to youth in Knoxville and surrounding areas to take that journey with us," says Cash, who goes on to clarify they don't have to do the entire 100 miles, but hopes they will at least be inspired to go outside, or "Find Your Park," as the theme for the National Park Service's centennial suggests.
"I think success for the future is the more we do to engage our youth. Not only for the Smokies, but for all other National parks across the country. The legacy and success of our work is not what we've done today, but about how much further it's going to move forward and that can't happen without millennials."
Engaging the communities that support the Great Smoky Mountains National Park is another one of Cash's primary goals as the new superintendent.
"In the four months I've been here, my primary efforts have been centered around learning the communities and partners that have supported the park for so many years," he explains.
"My mantra has been to listen, learn and build together."
From trail restoration to battling the hemlock woolly adelgid, many projects in the Park are supported by organizations in the communities that surround the park.
Friends of the Great Smoky Mountains National Park, a nonprofit organization founded in 1993, helps preserve and protect the Smokies by raising funds and public awareness, as well as providing volunteers for projects such as trail restoration and research.
Examples of their work over the years include assisting with the reintroduction of elk to the Smokies in 2001 and dedicating a new laboratory at the University of Tennessee to raise predator beetles for the fight against the hemlock woolly adelgid.
When asked about the progress of that fight, Cash says he's hopeful. But seeing the high number of hemlocks that have already died off makes his heart sink, he adds.
"I've seen the destruction, but I've also had a chance to go out with our foresters and see the success they've been able to do strategically to hit major tributaries and waterways where we really need to put our efforts," Cash explains.
"We couldn't save every tree, but they've been very successful at trying different treatments. I think they've turned the corner."
The Great Smoky Mountains Association is another example of a community organization that supports ongoing education and public awareness of the Smokies. Organized in 1953 to support the preservation of the national park system through public interest and appreciation, the association has provided more than $32 million to the park over the past 60 years through retail sales to park visitors and a membership program.
Cash hopes to engage both organizations in celebrating the National Parks Service centennial next year and smiles as he discusses the plethora of ideas he and his team have discussed leading up to the centennial celebration.
One type of event they are definitely planning is a race – one in Tennessee and one in North Carolina. But instead of having a typical 5K where you show up for the race, run, get a T-shirt and go home, they plan to host an event after the race that will be a draw for folks who may not come to the Smokies just to run a 5K.
"We're going to work with the Friends of the Smokies to see if this can be an event of some sort that can help their cause in helping the park," he says. "Another thing we're doing is working with the Knoxville Symphony Orchestra to have them perform in Cades Cove."
This would not be the first time the orchestra has performed in the Smokies. During the park's 50th anniversary celebration in 1984, the Knoxville Symphony Orchestra played in Cades Cove with former Tennessee Governor Lamar Alexander as a special pianist.
This time around, Cash wants members of the symphony to think about what to play while in Cades Cove that might attract a different audience from outside the followers of the KSO.
Cash and his team also are working with the Nantahala Brewing Company to develop a centennial beer. He hopes the limited edition microbrew will be a great way to engage the millennials who, he acknowledges with a bit of a grimace, are of age now.
Ultimately, Cash says, the centennial is not about have a big party.
"This celebration is about making sure we've done our work to ensure the next generation will be the supporters, users and advocates of the park that this generation has become for the first 100 years."
When asked about his own legacy as the first African-American superintendent of the Great Smoky Mountains National Park, Cash simply replies, "Regardless of your ethnicity, it's an honor to be sitting in this position.
"The mere fact that I'm the first African-American superintendent is a place mark in this park's history, but not when it comes to how the history of this park is going to be managed."
Cash considers himself very competitive, which challenges him to want to do a better job than his predecessor, Dale Ditmanson, who served as superintendent from May 2004 to February 2015.
"Dale took on some tough decisions and he did a helluva job," Cash says. "He talked about in his retirement speech that being in this position is not about walking trails with a bluebird on your shoulder whistling. It's real work."
When it's operating at full capacity, which according to Cash is roughly 6,000 people in the park at one time, the Smokies resemble a small city. There are 340 employees, a wastewater plant, traffic jams, shelters and buildings to keep up, not to mention the impact 10 million people who visit throughout the year have on the park.
"It's a lot of responsibility, a lot of external relations, plus it's an economic driver," adds Cash. "But it's the centerpiece of a lot of these communities and I don't take that responsibility lightly."